A regional monthly magazine in my part of the world (southeastern Massachusetts, USA) has an article about me and my puppetery. The writer got a little bit too wrapped up with the swazzle business--it was a telephone interview and I didn't have a swazzle with me--and he got one or two minor things wrong, but overall it's a decent piece.
It explains my background and my return to puppetry after many years.
Here's a link to the online edition. The article starts on page 12 and continues on page 14.
https://issuu.com/coastalmags/docs/sci-may18
And here a photo of what the top of the page looks like. Don't try to read it.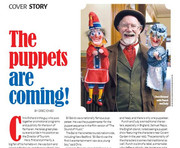 The photo of me is from a December Christmas event where I was simply showing off Punch and Judy. They had only arrived from Miraiker the day before, I think.