Hello to all , but to both Chris' in particular.
To Chris Richards in the USA , a reply from a different forum ...he like myself and many others tune in both here and to the Punch and Judy Facebook page.
Chris voiced a request on there for those that know me to urge me to join Facebook .
Someone that knows me very well replied "Not a chance !"
This is indeed so, I would rather chew off my right arm than join Facebook.
Nothing to do with its recent scandal with Cambridge Analytica ( altho I confess that only strengthened my resolve )
Its just that life is too short to be connected up to such a time-wasting energy vampire ( in my opinion )
True I do enjoy looking at the P&J Facebook page - which you can do even as a non FB member.
But I certainly don't wish to be 'plugged into' Facebook in order to post comments there.
I guess I am happy to be just a 'Voyeur'.
Chris also suggested that they try using Chat based segments on that page as its easier to follow than the usual FB 'endless thread' ( something like that I think ?)
Well for me , that is exactly what THIS board does so well.
True , most of the time this board is down to a handful of people who actually write posts.
But there is a second layer of people who can and do post when the particular topic is of an interest close to their own hearts.
On top of that sits a third layer of people who choose to only read ...Chat room Voyeurs and Lurkers
All good , there is room for everyone.
The two platforms seem to fulfil very different niche needs I think.
The P&J FB page seems to be for more instant gratification ..quick posts of who's done what in the last day or so.
Lots of pictures , a sort of 'quick fix' for your daily Punch curiosity habit.
This board tends to delve deeper , with people taking the time to cover things in more detail .
Either their thoughts on why and how they chose Punch as a Hobby or Profession , or practical issues on how things are built or designed .
Hence the convenient Chat / Workshop split ( although some topics straddle across the divide)
It has grown over many years to become a huge source of tips and experience based knowledge.
Always worth a trawl through its vast back catalogue.
There used to be more people posting on here , and yes the other board and places like it can be said to have taken away some of the 'instant thrill' seekers.
But everything goes through cycles , and I think this boards popularity will be on the up again soon enough,
There used to be more photos uploaded here too and its fair to say the other board has taken away most of that particular traffic and footfall.
But not always.
Particularly on the Workshop side a photo can convey more than words ever can.
I myself post less pictures than I did say four or five years ago, because I am a confessed 'Camera Compulsive' documenting everything I make.
And I realised a few years back I was rather overloading this site with my blow by blow photos.
About that same time I discovered Flickr Pro .
The original reason for using Flickr was having a secure off computer storage for my photos in case I am ever burgled and my computer gets stolen. Something more easily catalogued and edited than 'the Cloud'
It was just a tool for me , for my own use.
But then I realised I could share links to some of the public galleries , so there was no need to swamp this site with images.
I can just put one or two on here with a link to a gallery of the rest.
But I am confident there is a place in the world for This Board and the Facebook Page to go on servicing two slightly different needs.
I just don't feel the need to join Facebook myself to do it.
...... And to the other Chris goes the "Facelift' part of this pun.
No , I am not suggesting he needs one
Having seen the videos of me looking VERY tired at the Mayfayre my need is certainly greater in that department !
It is a Booth 'facelift' I am speaking of.
One that I know is close to the heart of Chris S.
Not following the heard -Using something other than Red and White Stripes.
My new booth was always intended to be a Chameleon ...The main framework and the Golden Prosc Arch being the only constant and regular fixture.
In the near future a variety of booth covers and pelmets and stage curtains are planned.
And over a longer period of time so too is a variety of prosceniums of different shapes styles and colours ( but all fitting around and latching to the Golden Arch )
That is why it is called my 'Golden Booth" ...not because its current Proscenium is mostly Yellow and Gold.
Future booth covers may not always be Striped.
Some nice Furnishing fabrics are catching my eye at the moment and yelling to be made into Punch Theatres.
But the first non red and white variant IS still stripey.
Here is a first look as of tea time yesterday: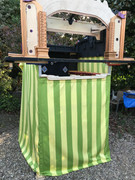 More will follow in this Flickr Gallery:
https://www.flickr.com/photos/rkcpuppet ... 1246176080
Best to all named Chris , and all the lovely Lurkers and Voyeurs too !
Richard