The historical fort in my hometown had a Revolutionary War encampment this weekend. I'm one of the founders of the group that has done this for the last 15 or so years.
I had no booth, so I brought Punch and Judy and did tabletop demonstrations to show the children what entertainment was like before movies, TV, and YouTube. Just a simple tug-o-war between Punch and the Croc with a string of sausages gets as many laughs as any cartoon. (I know the Croc is not period correct, but even Punch in the colonies at this time is hard to pin down.)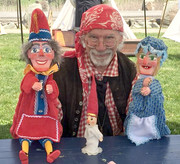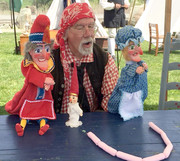 We also did this last night:
https://www.youtube.com/watch?v=zubHm8UP0T4&sns=fb
My voice can be heard on the microphone talking about the echo across the harbor when we fire #4. Unfortunately, phone videos do not pick up the thunderous roar.