There is no two ways about it , sometimes a day comes along which is so lovely that it makes you think "why can't they ALL be like this ?"
The Mayfayre in Covent Garden isn't that day!
Don't get me wrong it has a great deal going for it , for one thing ,the chance to see old pals that you don't see often enough -indeed sometimes only once a year on that very day.
And there is the thrill of playing to a highly appreciative and sophisticated 'puppet-centric' and 'London' audience.
Also the Punch and Judy Club 'AGM' , which is the nicest AGM ever invented.
Frankly its a good job all these things are such Fun and make it all worthwhile because the practical mechanics of the day are just exhausting.
Driving to London ( and
through
London especially) not my favourite thing in the world.
This you cannot do on the Saturday in readiness for Sunday because ( a ) the Congestion charge (b) the Parking charges and (c) you'd never actually find a parking space within three miles of Covent Garden anyhow.
And if you were willing to pay the sky high costs of the Car Parks that are close by , you are stuffed if like me your van is taller than 2.3 meters. Even that option is closed in an increasingly visitor unfriendly city.
This means the horribly early start just to get parked nearby.
Then the fact that the Church gardens are raised greens with only small steps to gain access ...tricky with anyones Booth transportation ...huge fun and games with the tonnage I travel with.
Its also a very truncated time for performances after the Church service and the Brass Band have finished.
And the locking of the garden gates at the end comes upon you vey suddenly if you don't pack up like greased lighting .
And if it sounds like whinging then it isn't really - after all nobody forces us to come and work that day for free !
It's like the old "Jamaica" joke ..."No , she went of her own accord!"
I can't speak for everyone else , but if it was an ordinary paid gig on any other day of the year , I would turn down coming to Covent Garden as its just too much faff and trouble to be worthwhile.
Im lucky I guess ( not that the bookings are flooding in ho-hum) ..but I do tend to only work places where the travelling and the 'get-in' and the working conditions are conducive to having a good time.
If you are going to work for yourself , why put up with awkward venues or the difficult bookers?
What I am saying is , having weeded out the ones that don't suit me for whatever reason , all my bookings are really enjoyable.
But every now and then a truly perfect storm of loveliness comes along.
That was this Sunday just gone.
A Vintage vehicle and Steam event at a big Park in the Midlands.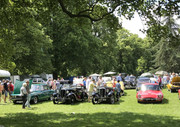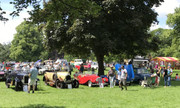 This was the sort of days work that would make anyone want to be a Punch and Judy Performer.
Indeed its the sort of day that makes this particular Punch performer a very happy camper!
It was a two day event , but they had someone else booked for the Saturday , so I was just there for Sunday.
But I arrived late Saturday afternoon to get parked up in position.
The Park gates were kept open late - until 9pm- to let out the last of Saturdays stallholders and exhibitors and also to allow in any of those arriving in preparation for Sunday .
No closing the gates early, nobody saying "You cannot park here / you cannot sleep in your vehicle here"
And there were plenty of security crew patrolling the whole area all through the night to keep everyone safe.
Loads of stallholders were camping in their regular vans , or converted vans , or motorhomes .
And some in simple tents and awnings put up next to more regular vehicles.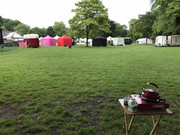 The weather was glorious both days.
I got the chance to fully use my Punch-Mobiles sleeping quarters and do a bit of 'Glamping'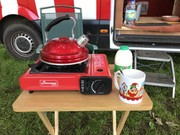 I had bought myself a new stove and kettle last year which Id not had the chance to use till then,
And one of Dan Hantons splendid P&J Mugs also got its maiden usage.. I don't know if it was all the newness or the great weather , or the simple fact of drinking it outdoors , but boy that Tea was good !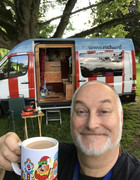 Some Lamb Stew from my freezer in the morning made for a good 'cook-out' too.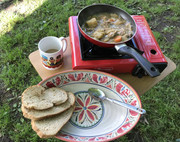 Waking up refreshed and already in position meant that setting up the show was a nice leisurely affair.
This was what the past two years of slog were all for ...All those months insulating and kitting out the Punch van.
And six months building the new booth.
The wheeled trolleys for all the puppets and the theatre parts , the bespoke aluminium folding ramp fitted inside the back of the van.
What a joy to wake up in my little bunk bed with its comfy memory foam mattress , and a few minutes later open the back door , fold down the ramp and easily and simply wheel the trolleys to the side of the van to start booth building.
This was what the hard work was for ...this for me was indeed "Living the Dream!"
I got the chance to try out some of the different Pelmet / Canvas combos that I am fast accumulating for the new booth,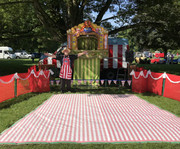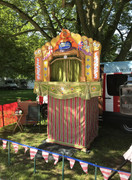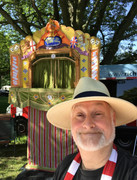 I truly prefer this colour combo , but it will have to keep for duller weather because the green and red striped cloth has a rubberised? or plasticised? back to it , and in the hot sun I would have cooked in my booth.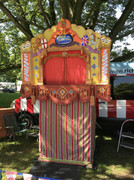 In the end I settled on the familliar red and white stripe I suspected the bookers were anticipating seeing.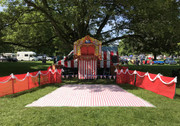 During the preceding week I had sewn together a new audience tarpaulin groundsheet and edged it strongly and put in reinforced rivet holes for the tent pegs.
It really set off the whole set up very smartly indeed.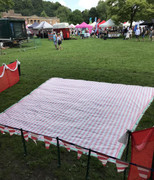 All three shows drew big crowds that were good spirited and up for a laugh.
So often the people who book you never get to see the show.
But when I was setting up a bit of a 'buzz' had gone round and quite a few people with Council polo shirts and high-viz vests came over to take photos of the Theatre.
Even nicer was the fact that two or three of the events management team came to each show.
On paper I was not positioned in a brilliant spot , I had a chap carving garden ornaments from tree logs with a chainsaw on one side , and on the other a wonderful but extremely loud fairground organ.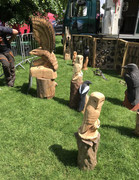 But while I was setting up in the morning both the chainsaw chap and the organ lady came over to ask what times the shows were on as they would stop during the shows. This was unexpectedly lovely , and they were as good as their word.
Unlike dear old Covent Garden , there was no mad rush once the event had ended.
The gates were again being kept open late to allow everyone to pack down and leave at a sensible pace.
I had a pleasant pack down , with more cups of tea and chats with the people who ran the adjacent attractions.
So all in all a delightful event.
And to crown it all , they rang up today and have have booked me for another event at a different park this coming Sunday.
I will try not to have too great expectations of that , because it would be hard for to a be as idyllic as this Sunday....but who knows!
Fingers Crossed.