I was booking my hotel for Blackpool yesterday, and decided to check online for the May Fayre date. I was pretty sure it was dead on the 12th this year. A google search produced a page full of incorrects dates. Oh dear.
And then, by coincidence, in my email inbox this morning came the annual invitation to The Covent Garden May Fayre and Puppet Festival with all the important information.
If you want to see the letter its on here, under Coming Events.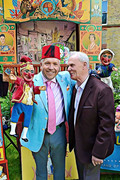 Last year's May Fayre - Quisto Punch and Judy with two others....
May 12th will be here before we know it.
So better start stitching that new frock ---- sorry, I meant gown.