A young friend of mine, a would be Punch prof, is going to Turkey for a two week Easter holiday. He's far more excited about the May Fayre than his foreign holiday and every time he meets me he asks if I know how long before Covent Garden, and when I give some approximation he gleefully tells me to the exact day.
In the 1980s I did visit Turkey since Istanbul was one of our ports of call when I was performing on The Calipso, a Greek cruise ship. I loved Topkapi, the palace which figured in a the film "Topkapi", the classic jewel heist movie, and also St. Sophia, a former Greek Orthodox Christian cathedral, later an Ottoman imperial mosque and now a museum. Quite splendid!
I searched but never tracked down Mr.Punch's cousin Karagoz in Istanbul, although I did find him in Greece. But that's a story waiting to be written up for the PunchandJudy.com website.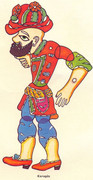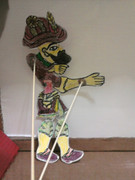 This is all just an excuse to remind you:-
SUNDAY MAY 12th, St Paul's Church Gardens, Covent Garden. Mr. Punch awaits you.