I do hope CvdC still reads the posts on here from time to time ( I know he does not write any himself any more sadly)
He has often joshed with me in the past about the size and complexity of my booths , sometimes calling me "The Palatial Booth Company"
I also miss his clever photoshop satire: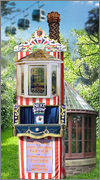 Well I think my latest Booth building project would certainly amuse him.
Fair to say it IS indeed large and a complex design : It is certainly not a Lazy Tongs.
However it will also be the fastest booth to put up that that I have ever made.
Although it is far from finished, I can confidently predict it will take no more than 10 minutes from putting the first piece on the grass to having it completely up and canvas covered.
As always I am going bonkers with my Camera , and have a Flickr gallery as a record of the build.
https://www.flickr.com/photos/rkcpuppet ... 1305856828
I have not added in the typed commentrty to the pics as yet , but will when I have time ( Probably when the darn thing is completed )
I realise it is not the sort of construction most folk would want to undertake.
You need a panel van to transport it , so it is not your usual back seat or boot of the car type of theatre.
And like my current aluminium frame booth it will get from A to B in a wheeled trolley.
This I will build only when I have all the Booth parts completed , as it will need to be bespoke size and shape.
Here is my current incarnation: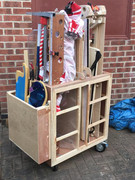 Chris Van der Craats series of pictures on this forum are a wonderful step by step lesson to anyone wanting to build a Lazy Tongs booth for themselves...well worth checking out.
My photos are not intended to be any kind of instructive lesson in building a booth as I doubt anyone else would want to go down this path , but they should prove a good bit of whimsy none the less
Richard