I will repost this segment here on the 'Workshop' side of the forum.
My new booth was always intended to be a Chameleon ...The main framework and the Golden Prosc Arch being the only constant and regular fixture.
In the near future a variety of booth covers and pelmets and stage curtains are planned.
And over a longer period of time so too is a variety of prosceniums of different shapes styles and colours ( but all fitting around and latching to the Golden Arch )
That is why it is called my 'Golden Booth" ...not because its current Proscenium is mostly Yellow and Gold.
Future booth covers may not always be Striped.
Some nice Furnishing fabrics are catching my eye at the moment and yelling to be made into Punch Theatres.
But the first non red and white variant IS still stripey.
Here is a first look as of tea time yesterday: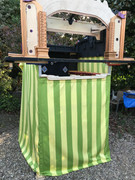 More will follow in this Flickr Gallery:
https://www.flickr.com/photos/rkcpuppet ... 1246176080