Earlier this month it was my great pleasure to have Joe Burns come and stay with me for three days.
Joe had expressed a wish to make a Toby Dog to use in his upcoming Summer beach season at Swanage.
Joe knew that I have built as many' muppet-type' hand puppets as Punch figures and asked me a month or so ago how to go about building one.
Well I had already been harbouring the notion to finally get around to making myself a Toby Dog.
So the plan just came together out of good timing.
We would build out dogs together.
The results I have to say are really nice.
Here they are 'almost' finished ( I left a bit of mine un-done while Joe was here as we both knew we were tight for time having only 3 days , and the most important thing was getting Joes one ready for him to take home )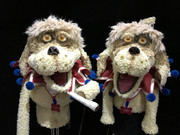 I did spend another day adding back legs to my dog after Joe had returned to Worthing.
A full gallery of the build process is in my Flickr:
https://www.flickr.com/photos/rkcpuppet ... 0146200198