After Captain Tom , it was a toughie deciding what to build next.
It turned out to be a Doctor , a German doctor in fact.
I have not had a Doc in my show since I was a Teenager, so my only doctor puppet is somewhere up in the attic with my first set of figures.
In any case he wouldn't sit well among the current set so it was time to get building.
An old , unfinished and rejected paper pulp head was the starting point.
He got cut up into parts ...most of which went to making a new bruiser of a Boxer puppet.
But the jaw of this head got used in constructing a new face for the doctor.
All build pics , as usual on my flicker site:
https://www.flickr.com/photos/rkcpuppet ... 4207332491
Here he is as first finished:
Several of my Punch and Judy CLUB mates saw the pic and said the bow tie was the wrong colour.
Everyone favoured red.
So red it was , but while I had that green spotted fabric to hand , he got a hankie for his pocket.
David Wilde , though not a maker himself was very shrewd in saying Doc needed BOTH colours to really be eye-popping.
I must say I agree: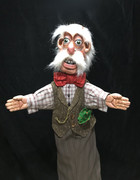 And why does this post have the title it does ?
Simple, being a German doctor his name is " Doctor Hans Washing" and his only purpose in the show is to keep popping up to tell Joey , Judy and Punch and the audience to "Keep washing your Hands because of Corona Virus !"