To Celebrate Bryan Clarkes 80th Birthday , every member of the Punch and Judy Club received a Blowey the Clown puppet at this years Mayfayre.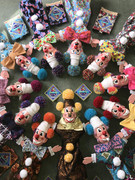 Well almost everyone ...Bryan spent the Mayfayre thinking he had not got one.
He had to wait to get his until our evening meal together.
Then he received a golden box tied with a golden ribbon.
Inside of course was a Golden Blowey.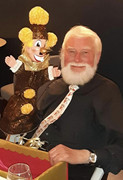 These Bloweys were carved and dressed by me , but thankfully painting duties were undertaken by fellow Club Member Daniel Hanton.
Inside each was a woven label that said :
Coombs and Hanton
BLOWEY THE CLOWN
a 1960s Classic reworked